La
Praia
(playa)
Porto da Barra
con sus aguas tranquilas es la más visitada por los turistas, pero en mi opinión es muy pequeña y atestada de vendedores. Las personas están unas pegadas a otras en una maraña de sillas y sombrillas, especialmente en Carnaval y otras festividades.
The Praia (Beach) Porto da Barra with its calm waters is the most visited by tourists, but in my opinion is very small and crowded with vendors.
People are pasted to each other in a tangle of chairs and umbrellas, especially in Carnival and other festivities.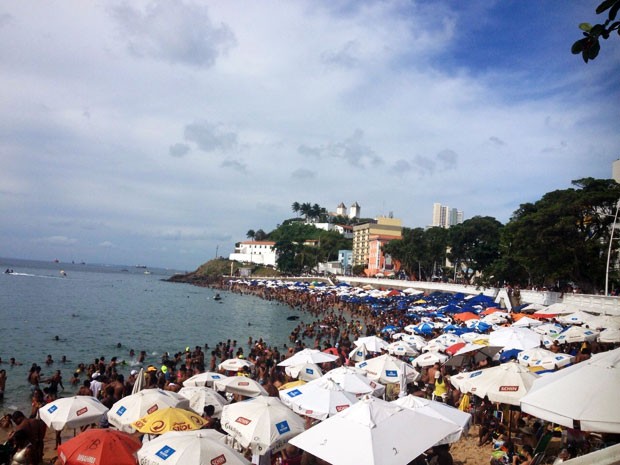 Cerca de esta playa está la Praia do Farol da Barra, cuyas olas atraen a los surfistas. Esta playa es visitada especialmente por los locales así que los vendedores no son tan agresivos.
Near this beach is the Praia do Farol da Barra beach, whose waves attract surfers.
This beach is especially visited by locals so vendors are not so aggressive.
Ambas playas tienen aguas muy limpias y transparentes a pesar de estar en plena ciudad.
Para disfrutar de playas menos concurridas hay que hacer un trayecto de 40 minutos al este del centro, en autobús (algo más si el tráfico es intenso) En las playas de Piatá (25km) e Itapuá (27km), el mar, la arena blanca y las palmeras ondeando al ritmo de la tenue brisa son una visión hermosa.
Both beaches are very clean with transparent water despite being in the city.
To enjoy less crowded beaches must make a 40-minute trip by bus (something else if traffic is heavy) to the
east of downtown.
On the beaches of Piata (25km) and Itapuá (27km), the sea, white sand and palm trees waving with the gentle breeze are a beautiful sight.
Para llegar a estas playas hay que tomar un autobús con destino a Itapuá o Aeroporto, asegurándose que vaya por la costa.
To reach these beaches you have to take a bus to Itapuá or Aeroporto, ensuring that goes along the coast.